With 1.7 Mio inhabitants, Barcelona is the second largest city in Spain – one would think this results in a logistic chaos. But the Catalonians solved this challenge pretty well. With a modern public transportation system and a wide variety of options, moving around Barcelona is simple and fast. 
Here's a brief summary of the many available options:
Metro
Barcelona has a modern metro system that consists of 11 lines and over 150 stations, making it extremely easy to move all around the city. The cost of tickets start from 2.20€ for a single ticket, but there are many ticket options for visitors and residents for different duration of 10 trips or for unlimited rides per month, three months or even a year. For students under 25 years of age there are also other discounted offers. Find an overview of all Metro lines here.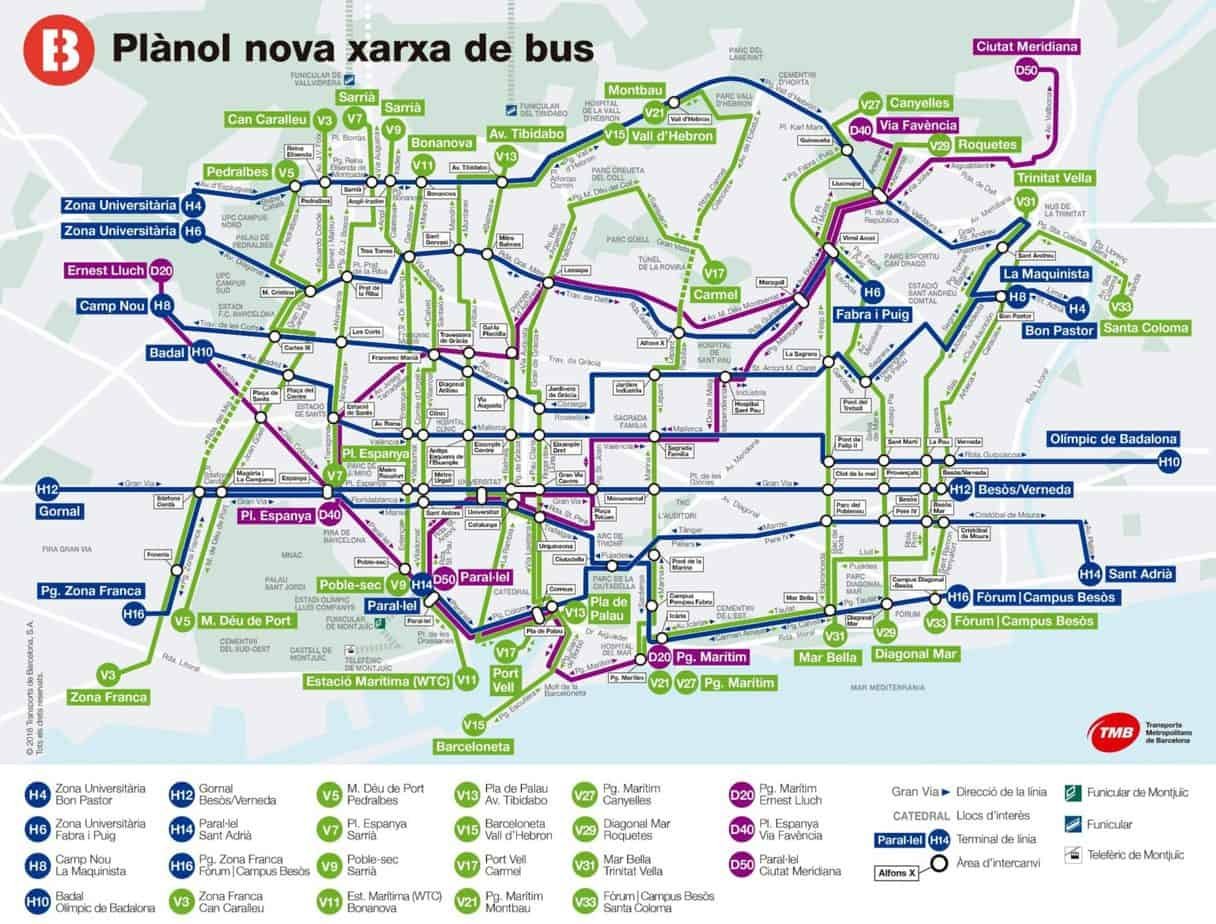 Tram
While it does not cover the entire city, the Tram is considered an attractive option for residents living close to the "Avinguda Diagonal" street that starts at the Les Corts neighborhood and crosses Barcelona all the way to the beach in the Sant Marti neighborhood. The tickets for the Tram are the same ones used for Metro and Bus.
Taxi
A more expensive alternative to public transport, with registered Taxis and a meter system that starts with a flat rate (2.10 €) and (1.13 €) per kilometer. It is important to note that these rates could slightly increase for airport trips, extra luggage or late night trips.    In comparison to other European metropoles like Paris or Berlin, Taxis in Barcelona are significantly cheaper. 
An alternative to Taxis, is the smartphone mobile app Cabify (similar to Uber and Lyft). It's good to be aware that over the last years there were multiple protests ("Huelgas") in Barcelona, where the Taxi drivers blocked the main streets of the city for days – it's a sensitive subject and not necessarily the best conversation topic with your driver.  
FGC (Ferrocarrils de la Generalitat de Catalunya)
The train system of the government of Catalunya, FGC handles transportation between Barcelona and all the other cities in the region, and also connected to the metro system. The monthly and higher multi journey tickets works for trips on the FGC in addition to Metro, Buses and Tram.  
AVE & RENFE
These means of transport are the long distance trains in Spain and provide a fast way to connect Barcelona with cities like Madrid, Bilbao or Malaga. Tickets can be purchased online or at one of the nine train stations in Barcelona. 
Bicing
A modern shared bicycle system with more than 400 stations available throughout the city. Students and residents of Barcelona are allowed to get a Bicing card with a yearly subscription rate of 35 – 50 € depending on subscription model – the requirement is a NIE number. Bicing offers mechanical and electrical bikes and is the most environmentally friendly and practical way of transportation in the city. #transportation #mapbarcelona #metro #bus #taxi #ave #renfe #bicing