Madrid is the capital and largest city in Spain with almost 3.3 million inhabitants. It is located in the center of the Iberian Peninsula and is surrounded by mountains and natural parks. Although it is located in the center of the country, it has traditionally been the hub between different areas of Spain and is therefore connected to all major Spanish cities by train, road or air.
Full of energy and packed with cultural attractions, Madrid is a modern metropolis that offers a taste of real Spain. Wide avenues are congested with traffic, but beautiful parks break up the urban sprawl. Madrid doesn't have the traditional charm of Andalusia or the beauty of Barcelona, instead, it offers an exciting atmosphere and is constantly buzzing with activity.
Madrid has a lot of interesting attractions that offer both culture and amusement.
The city is full of great monuments, like the royal palace, the Plaza Mayor, or the many statuettes The museums Del Prado, Reina Sofia, or Thyssen have some of the most fantastic collections of famous Spanish painters like Velazquez, Goya, Picasso or Miro.
IE Business School (IE)
Recognized as one of the top business schools in the world based on international rankings, IE Business School has an urban campus in Madrid and delegations across five continents.
The school has a faculty of more than 500 professors who currently teach students from 128 countries at the graduate and postgraduate levels, as well as offering Masters in Management, MBAs and Executive MBAs, Masters in Finance, and Doctoral and Executive Education programs.
With a risk-taking and boundary-breaking entrepreneurial foundation, IE Business School is an institution of restless learning. An institution of powerful connection. An institution that always strives for more.
Its global network represents international, transformational entrepreneurial vision. From its Bachelors to its Doctorates, IE Business School mirrors the market, molding its education to incorporate current trends using innovative methodologies. 
Catering to the real needs of the real world, IE Business School offers a range of formats (full-time, part-time, and blended) to ensure the utmost flexibility in its Programs. At IE Business School, what you imagine is possible is only the beginning.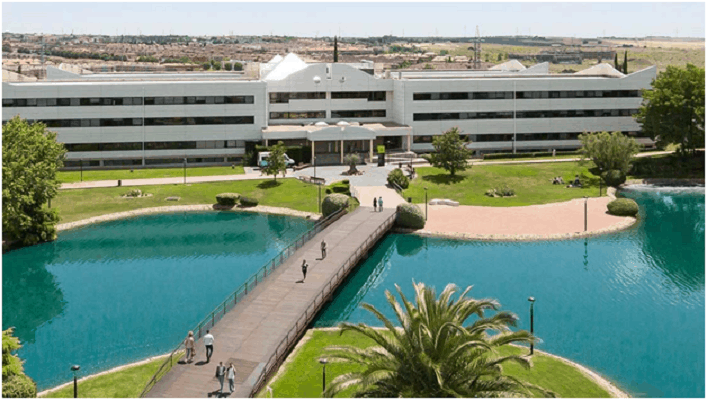 Universidad Europea (UEM) and Real Madrid Graduate School
Universidad Europea, with four campuses in Spain, two in Madrid (Villaviciosa de Odón and Alcobendas), one in Valencia and one in the Canary Islands (La Orotava), is an innovative institution geared towards adding value to society and contributing to its progress.
At Universidad Europea students acquire knowledge and develop skills and values through an educational model in which they learn by doing, in an interdisciplinary and international setting, immersed in the profession from day one, and through the use of space and technology that has revolutionized learning.
In 2006 Real Madrid C.F.and Universidad Europea de Madrid created the first University School specialized in sports and its relationship with management, health, communications and leisure/recreation.
The Real Madrid Graduate School – Universidad Europea extends beyond the boundaries of sports by training professional leaders in all the disciplines that are associated, one way or another, with this area.
The graduate programs focus on different areas and are designed for university graduates and working professionals from different sectors linked to both professional and amateur sports.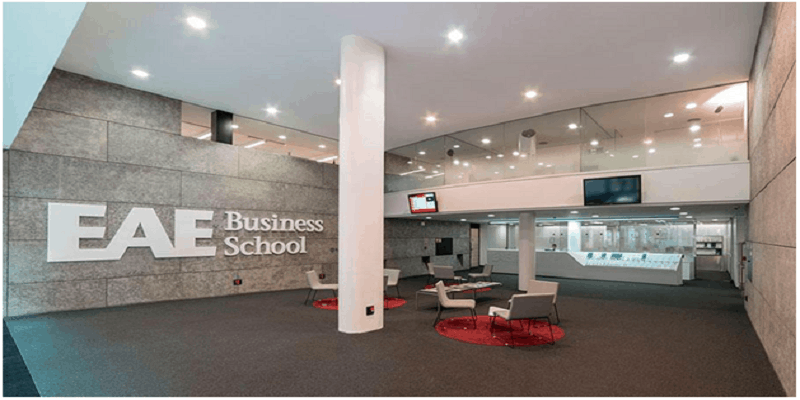 EAE Business School (EAE)
EAE (Escuela de Administración de Empresas in Spanish) is an exquisite Business and Management higher education institution located in the central urban area of Barcelona. With more than 50 years of teaching and training heritage, EAE is ranked as the 3rd best Business School in the whole country of Spain.
Also, as another plus, it is also one of the most international higher education institutions in Barcelona, and Spain, for that matter. And, if that's not enough, know that its link with Latin America is even stronger than the rest, having some campuses in these countries, not just some collaborations.
ESNE University School of Design, Innovation and Technology (ESNE)
Accredited by ANECA, ESNE-University School of Design, Innovation and Technology, has more than 200 professors who have profound professional experience in their respective industries. This knowledge is used to transform the classrooms into highly practical. and innovative environments that provide the soil for creative minds to grow.
ESNE is a pioneer in combining cutting edge innovations from the fields of Design, Fashion and Technology and enriches their curriculum through partnerships with top companies to prepare the graduates for the labour market. This proven approach has revealed top employability rates and a large number of entrepreneurs who won several awards in the past
CEU Fundación Universitaria San Pablo (CEU)
The CEU is an institution which, for more than 80 years, has worked to promote comprehensive education for individuals at all educational levels. Founded in 1933 by the Catholic Association of Propagandists (ACdP), it has 21 educational establishments, from where more than 300 different educational programmes are provided, from Infant Education to Postgraduate.
Specifically, the CEU has three private universities, whose aims are focused on the search for academic and professional excellence, innovation in its educational projects and teaching its students human values and virtues.