With its unique location in-between the Mediterranean, Europe and North Africa, and the millions of visitors from all around the world every year, Barcelona has developed an international appearance of global cuisine, added to its own Catalan and Spanish cuisines – making it a top choice for food lovers and a place to try and experience different foods from all over the world.
Barcelona offers a tremendous gastronomic experience, from traditional tapas bars and various food markets to international top class restaurants. 
Food Markets
Food is an essential part of the Catalan culture, which becomes more obvious looking at the diversity and quantity of food markets in Barcelona. With over 35 food markets spread all around the city's neighborhoods, tourists and locals don't have to travel far to find a food market, and each market is unique in its offerings, filled with a variety of fresh vegetables, fruits, seafood and many other options.
At special occasions throughout the year, like the bohemian "Palo Alto" market, the food offerings get accompanied by music and a flea market. The best source to stay up-to-date with food markets is Facebook.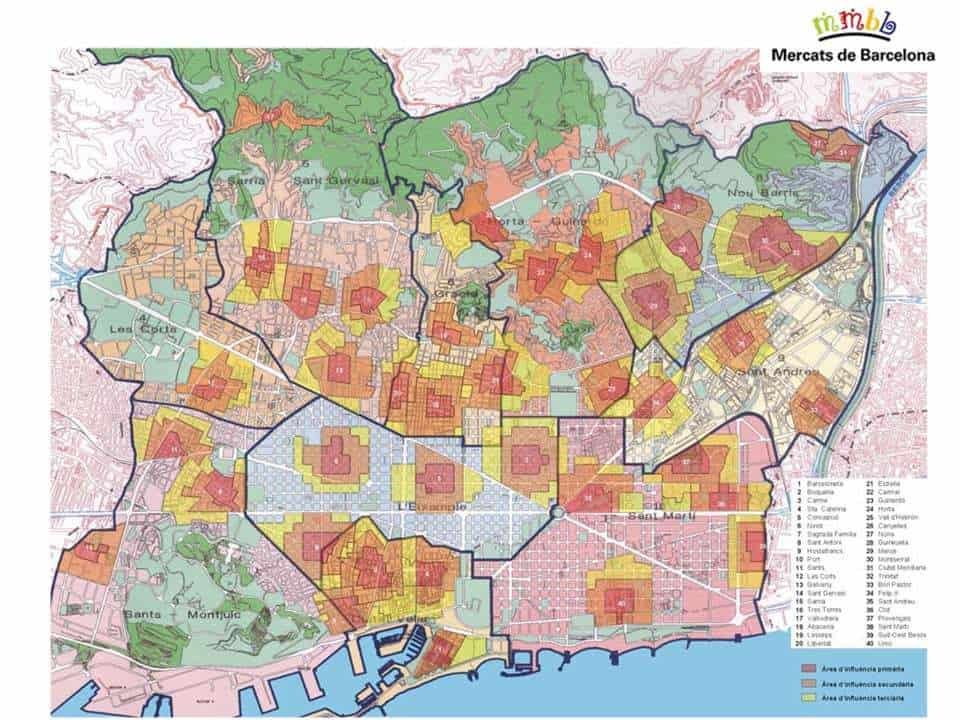 Catalan & Spanish Cuisine
Catalan cuisine is admired not only in Spain but on a global level, combining seafood as well as plant based with a variety of meats. The Catalan diet is a tasty combination of land and sea ingredients, which has been influenced by the history of the Iberian peninsula for multiple centuries. 
A very common fish you get here is Bacalao (cod), either fresh or in the delicious shape of croquetas. In Barcelona it is easy to find a variety of restaurants and small cafeterias that serve different types of both Spanish and Catalan food. Typical dishes are tapas, like Pimientos de Padrón (peppers), Iberian ham, Albóndigas (meatballs) and many other exquisite plates. 
Usually eating in Catalonia is a very social event, you would order multiple tapas for everyone and share them with the company at your table. Another traditional dish is Paella in its various recipes (with seafood, meat or vegetarian). Often the best restaurant is just a small local place around the corner – try to find the best one for yourself!
International Cuisine
In addition to the local cuisines of Spain and Catalonia, Barcelona is considered as an international hub for all kinds of global cuisines. From Asian kitchens such as Chinese, Vietnamese, Japanese and Indian to Latin and South American restaurants from Brazil, Peru, Mexico or Bolivia, and also American, African and European options – really everything is available. 
It is a true challenge to cover the variety of global restaurants in Barcelona even if you are a resident. But one thing be assured to you – you will not starve with the amount of culinary options there are in Barcelona.