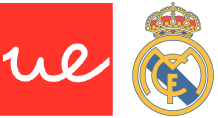 Real Madrid Graduate School
In 2006 Real Madrid C.F.and Universidad Europea de Madrid created the first University School specialized in sports and its relationship with management, health, communications and leisure/recreation. The Real Madrid Graduate School – Universidad Europea extends beyond the boundaries of sports by training professional leaders in all the disciplines that are associated, one way or another, with this area. The graduate programs focus on different areas and are designed for university graduates and working professionals from the different sectors linked to both professional and amateur sports. The School was created with a strong international component, just like the two institutions that back it. On one side there is Real Madrid Football Club, which took a Spanish company and made it into a leading international force; on the other is Universidad Europea de Madrid, a world leader in advanced education. The guiding educational principle behind each of the graduate degrees of the Real Madrid International Professional School is a professional focus. The design and implementation of these programs is carried out by professionals from both Real Madrid as well as Universidad Europea de Madrid, highly prestiged in their respective fields. With the goal of providing a practical education, the graduate programs are taught in state-of-the-art facilities: the Real Madrid facilities at its brand new Sports City and Santiago Bernabéu Stadium, as well as Universidad Europea de Madrid's campuses in Alcobendas (Madrid) and Villaviciosa de Odón (Madrid) In addition, most of the graduate programs include visits to companies or to events related to the curriculum, such as the All England Club where the famous Wimbledon Grand Slam takes place, in the case of the Alfredo Di Stefano MBA in Sports Management.
MBA Sports Management
The international nature of this program will enable students and sports managers to obtain the broadest possible perspective on all existing sports management models, not only in Spain but also beyond our borders, thanks to the participation of a top-class international faculty. This educational commitment will exponentially improve the scope and professional possibilities of our students.
This MBA primarily consists of ten modules on company management, followed by a crossdisciplinary module on management skills. The program contains a segment that specializes in sports and focuses on marketing, management and the operation of sports facilities.
Students will come into contact with all the areas in the city where Real Madrid is present (facilities, sporting venues, organizational and management institutions, etc.), as well as with the Real Madrid Foundation. Students will also gain firsthand insight into other facilities and management models through visits to: Santiago Bernabéu Stadium, Ciudad Deportiva Real Madrid (Real Madrid Training Complex), Ciudad del Fútbol de la RFEF (Soccer City of the Royal Spanish Football Federation), Caja Mágica (Madrid Open Tennis Stadium), and other spaces intended for leisure and entertainment run by both public and private organizations.
Students may participate in a trip to New York City with other students of the Real Madrid Graduate School. The trip will include visits to the headquarters of important sports leagues such as NBA, MLS, and NHL, major venues like Metlife Stadium, and marketing companies such as Octagon. This is one of the best experiences a Sports Management student can have, both from a managerial and an operational viewpoint, since they will receive hands-on learning and apply the knowledge they have gained throughout their studies.
Aimed at
• Industry professionals who are already in a role of responsibility and want to give their career a final push. Proven experience is needed.
• Professionals from the technology industry and / or other technical fields (engineering, finance, architecture …) who are already in a role of responsibility but want to redirect their career path and join the sports industry. Proven experience is needed.
• Former elite athletes who wish to take the final step in their career from the field to the office by introducing innovation into sports entities.
Access Requirements
• English B2
The admissions process for Real Madrid Graduate School – Universidad Europea programs runs throughout the whole year, although enrollment in all graduate programs depends on the availability of places.
For personalized guidance, you can go to either of our university campuses (Alcobendas or Villaviciosa de Odón), or contact us via phone: (+34) 91 112 88 50 or e-mail: escuelauniversitariarealmadrid@universidadeuropea. es to receive advice from the Graduate Degree Admissions staff.
Once candidates have received guidance and have provided the necessary documentation, the Graduate Degree Admissions staff will send them a date for taking the entrance exams for the program they are interested in, and for a personal interview with the Master's Program Director or a member of the Admissions Committee.
The admissions process does not involve any costs or commitment for candidates, until their place is formally reserved.
Admission phases:
1. Personalized guidance
2. Sending in the application and documentation in order to evaluate the candidate's profile
3. Assessment of the profile and interview
4. Confirmation of admission
5. Formal reservation of a place and enrolment
Requirements to get a Spanish student visa?
Before you schedule an appointment at the Spanish Embassy in your country there are a few documents you need to have ready. These visa preparation documents highly vary per nationality and sometimes even per state department of your country. See here a list of requirements that usually need to be presented.
• National visa application form
• Biometric pictures
• Passport with expiry date at least 6 months past the date you are applying for
• Health Insurance Letter from Spanish provider
• Medical Examination, following the current requirements of the Spanish Health Association
• Accommodation Letter
• Bank statement, showing that you can financially sustain yourself during your whole stay in Spain (this amount varies every year, contact us for the up-to-date requirements)
• Invitation and offer letter from a Spanish academic institution
• Visa fees paid
• Most of these documents need to be translated into Spanish by a sworn translator and legalized by the notary or Spanish authorities, depending on your country of origin.
LEAP has a visa success rate of 95%. Contact one of you educational experts to enlarge your acceptance chance